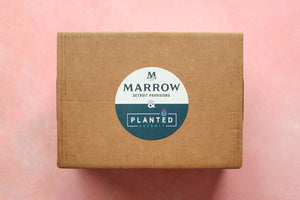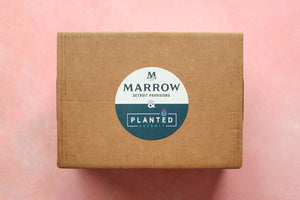 Wholesale Price
Planted Detroit x Marrow Box
Sustainability, local sourcing, farm to table...these are just a few things we have in common with our partner and neighbor: Marrow, a butcher shop + restaurant combo located in West Village. Our collaboration combines their love for locally sourced meats and our love for locally sourced greens to bring you a well balanced box of farm to table goods. Each month, our box collaboration will feature rotating proteins from Marrow and greens from Planted Detroit!

July boxes will be delivered/available for pickup on Friday, July 28th
July's box contains: Vernor Hwy Mix (5oz), Specialty Kale Blend (5oz), Basil (3oz), Dill (1oz), Edible Flowers Mix (0.75oz), Pork Blade Steak (20oz), Beef Flat Iron (16oz), Beef Patty (5 patties, 20oz total), Sweet Italian Pork Sausage (5 links, 20oz total), Butcher Broth (32oz)
Orders for July delivery must be placed by 11:59pm on Saturday, July 22nd.