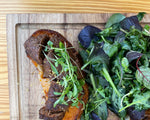 Our newest partnership with
Marrow
, our butcher shop + restaurant neighbors, highlights our love of all things local. Their butcher, Chris, used ingredients from our
box collaboration
 to build this incredible recipe!
Grab a box
for delivery at the end of the month and get ready to hit the kitchen!
CHIMICHURRI INGREDIENTS
2.5oz Planted Detroit Field Street Mix
1oz Planted Detroit cilantro microgreens
1 cup cold water
1 tbsp kosher salt
1 head garlic, peeled
2 tsp crushed red pepper flakes
1/4 cup red wine vinegar
1/2 cup extra virgin olive oil
CHIMICHURRI METHOD
Roughly chop the greens and cilantro. In a food processor or blender, blend together salt, garlic, red pepper flakes, and water. Add greens & cilantro one handful at a time, pulsing together between handfuls. Slowly pour in the red wine vinegar while continuing to pulse. Slowly pour in the extra virgin olive oil while continuing to pulse. Set aside when fully combined.
---
ARGENTINIAN CHORIZO (CHORIPAN) INGREDIENTS
1.5 tsp kosher salt
1 tsp black pepper
1 tsp smoked paprika
2 tsp sweet paprika
1.5 tsp guajillo pepper powder (if you can't find it, substitute cayenne pepper)
2-4 cloves of garlic (peeled)
1/4 cup red wine
1 lb Marrow Detroit Provisions dry-aged ground beef
1 baguette or sourdough loaf (we like to get ours from Hillside Hearth or Zingerman's)
CHORIPAN METHOD
Preheat your oven to 300 degrees.
Slice 4 slices from your bread of choice and set aside.
Combine spices, garlic, and wine in a small food processor or blender and blend until smooth (if you have an immersion blender, that will work, too!). Using a stand mixer or mixing by hand, combine the spice mixture and ground beef and mix until combined well. Separate the mixture into 4 equal size balls and roll into sausage links using the palm of your hands.
Heat a cast iron skillet or oven-safe grill pan to medium-high heat. Once heated, add the links and sear them on 2 sides. Place the pan & links in the oven for 10 minutes or until their internal temperature measures 130 degrees. Remove from the pan and let the links rest for 5-10 minutes.
In the same pan, heat the rendered fat from the choripan over medium-high heat. Add your bread slices and toast on both sides until golden brown. Set aside.
---
GREENS MIX INGREDIENTS + METHOD
2.5 oz Planted Detroit Field Street Mix
1/2 cup extra virgin olive oil
Zest of one lemon
Salt & pepper to taste
Gently toss the Field Street Mix with the extra virgin olive oil and the lemon zest. Add salt and pepper to taste.
ASSEMBLY
Slice the choripan on a bias and set on top of your toasted bread. Spoon a healthy amount of chimichurri over the choripan and serve alongside your dressed greens! Enjoy!
---