Our Farm

Beyond-organic farming
Vertical farming, biosecurity, and controlled environment agriculture at Planted Detroit.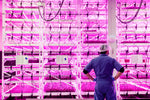 Vertical Farming
…is exactly what it sounds like. We grow up instead of out to grow enough food, 3 miles from downtown Detroit, to actually feed people. We harvest greens 5 days a week, from 3 different systems: an 8 level Pipp Horticulture system featuring red & blue spectrum lights, an 8 level Pipp Horticulture system featuring full spectrum lights from Bios, and Planted's Automated Racking System (affectionately known as PARS), with 16 levels, that we designed ourselves to specifically meet the needs of our plants. All of those systems are contained within a 10,000 square foot footprint, allowing us to grow an immense amount of greens in a lot less space than traditional farming. Soon, we're going to be growing in another set of systems specifically built for edible flowers…stay tuned.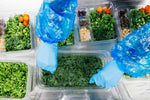 Biosecurity
Shoes off, full body suit, hairnet, boots and mask on, insert hands into the automatic hand-washer, put on gloves. This is the daily (often many times daily) procedure that everyone who sets foot in our farm must go through. Making sure our greens don't come into contact with pathogens is our top priority. Every effort we make to maintain a biosecure growing environment has been carefully developed by our team of experts so we are 100% confident every bite you take will only make you healthier.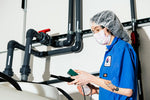 CEA
CEA=controlled environment agriculture (we are control freaks and we know it). In order to ensure we grow the healthiest and best tasting greens we can, we monitor every aspect of the growing environment including light, temperature, what we feed the plants, and who comes into contact with them. We grow hydroponically, using Nutrient Film Technique, which feeds the plants through a moving stream of nutrient rich water. By adjusting the nutrient mixture, the temperature of the room, and how much light the plants receive, we can affect the flavor of the plants, producing a final product that chefs and home cooks go crazy for.
Read more about how we git r done on our blog.
Testimonials
"I rely on Planted salads for my work lunch most days. The greens are beyond fresh and I love the variety and flavors. I add a bit of protein and I'm good to go. The delivery is also on point."
Gennie Snow, customer since 2021