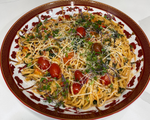 Sometimes the best dinner after an early summer day in the sun is a big bowl of pasta mixed with local greens. Chef Amanda Saab knows exactly what we like and really delivered with this recipe featuring our Specialty Kale and Rainbow Micros Mixes!
INGREDIENTS
2-3 cloves garlic, chopped
3 tbsp unsalted butter
2 tsp kosher salt
2 tsp freshly ground black pepper
2 tsp garlic powder
2 tsp Hungarian paprika
2 tsp dried basil
2 tsp dried oregano
2 tbsp all purpose flower
1 pint heavy cream
1 cup parmesan, Romano, or pecorino cheese (or a blend of your fave!)
1 pound spaghetti (or other thin noodle), cooked al dente
1/2 cup pasta water, reserved
Planted Detroit Rainbow Micros Mix for garnish
---
METHOD
Melt the butter in a medium skillet over medium-high heat and add onions and garlic. Sauté until fragrant and onions are translucent. Add in cherry tomatoes, bell pepper and seasonings (salt, pepper, garlic powder, paprika, basil, oregano). Sauté until tender.
Add in flour, mixing well so there are no clumps, and cook for 1-2 minutes. Next add in the heavy cream and the Planted Detroit Specialty Kale Mix. Stir to combine.
Add in the cooked spaghetti and allow to simmer in the sauce. If the sauce is too thick, slowly add pasta water to loosen to your liking. Taste and add salt, if necessary.
Top with your choice of grated cheese and garnish with Planted Detroit Rainbow Micros Mix. Enjoy :)
---