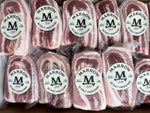 Our neighbors at Marrow share our philosophy that eating local is eating better. Much like Planted Detroit, Marrow is working to provide a tastier product with lower food miles to SE Michigan. We asked founder Ping Ho to share with us about their approach to butchery, sustainability, and how shortening the supply chain leads to better tasting and more ethically sourced meat in our corner of Detroit.
Our mission at Marrow is to promote, utilize and advance a healthy, local and sustainable food system, one that certainly includes meat. 
These days, being a proponent of meat can be controversial. Detractors are quick to point out, and justifiably so, the negative impact of the meat industry on our environment, the horror stories of poor labor and safety practices and the breakdown of supply chains that led to meat shortages during the COVID-19 pandemic. Indeed, the US meat industry today is dominated by large industrial giants, focused on producing inexpensive and readily available meat. The small cattle or hog farmer has largely been replaced by processing companies that own huge feedlots and industrial meat-packing plants. One result of this concentration has been inexpensive meat that is commercially available in large grocery chains across the country. Your average beef now costs half of what it did in 1970. 
The focus on mass production comes at the expense of the animal -- the way it is bred and reared -- the consumer, who ends up with commercial meat pumped with antibiotics and hormones, and our environment. Industrialized animal feeding operations increase the occurrence of environmental issues related to the use of agricultural pesticides, animal waste and water quality. Experts say that 10% of US greenhouse gas emissions come from agriculture. This includes the fact that meals in the US travel an average of 1500 miles from farm to table. 
But there is an ethical and sustainable approach to meat – as a source of nutrition, epicurean delight, and a viable industry – that we at Marrow stand by and promote. And it starts with developing a short food supply chain, characterized by sourcing from farmers in our region, prioritizing good farming practices that honor both animal and land, and cultivating quality and traceability while maintaining as small a footprint as possible. Our goal is to strengthen the connection that we have with our food source by reducing the number of intermediaries between producers and consumers. Building trust through proximity – geographical, social, and economic – can then happen. 
We are growing our business this year by building a new processing facility in Eastern Market, expanding our product line-up and developing new partnerships (more on this soon!). But our approach for the foreseeable future will remain as hyper-local as possible, focused on cultivating trust with both our farmers and our customers, enabling transparent and traceable practices within a short supply food chain, and delivering quality and tasty products made with care.
Like buying fresh produce grown by your local farmer, picking your proteins from trusted, local sources, can make a big impact towards sustainability, defined as meeting the needs of the present without depleting the resources for the future. Sustainability applies not just to the environment and natural resources but also to a community's economic, social and cultural vitality. It is no surprise that the median age of farmers in the US is 65 plus years. At this rate, the reality is that we will see fewer options for local food, and sources will increasingly be dominated by mass produced companies and global imports, e.g., pork from China, vegetables from South America, etc. Buying and eating local, where possible, is one small but important step towards supporting the economic viability of your immediate community; the livelihoods of farmers in your region and everyone who works on getting good, fresh food onto the table. 
Our belief is that meat should and will continue to be a mainstay in the American diet for cultural, nutritional and epicurean reasons, and that a "good meat industry" powered by small, independent farmers who practice responsible and regenerative farming, can and must be developed. The challenge for those of us in the business is to produce meat in a way that adds net positive value to our environment and society while retaining flavor and quality at an accessible price point.