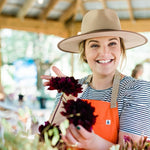 Since the very beginning, Chef Cat Shapiro of Thyme & Honey has been using our greens, microgreens, and especially our herbs to create the dishes of our dreams. Every time she tags us in a new photo, it's even more colorful than the last! She's been a devoted customer and advocate since the beginning (all the way back to 2018!), and we're so excited to take our partnership with Cat to the next level with her creation: the New Center Salad. Read on to hear directly from Cat about how she took her love of food to the next level, her obsession with dill pickles, and what's next for Thyme & Honey!
Tell us a little bit about how you got started in food, what keeps you inspired when creating new dishes, and why you feel such a strong connection to Detroit.
I've always been a chef, even if I wasn't certified as one...it's in my heart. Hanging out in every home kitchen that I could, completely fascinated by the beautiful symphony that naturally happens when creating a thoughtful, homemade meal. About 10 years ago, I decided to make my passion official and went to culinary school at Schoolcraft College. Since that time, I've had the great opportunity to work for incredible chefs all across Michigan, help launch notable restaurants and cafes, and be featured frequently in publications such as Hour Detroit and Seen Magazine. And of course, I created Thyme & Honey. 
I genuinely believe food is beautiful in every way, in every light, at every moment. Sometimes a dish can leave you a better chef than when you started, and sometimes, it just all works in perfect harmony. I am constantly inspired by my surroundings: the people around me, the cultures that surround me, and other incredibly talented creative makers who make me want to push myself to new limits. The only thing that gets in the way of me and my creativity is, honestly, time - there is never enough! 
I am so incredibly passionate about the culture and history of Detroit. Everything I get to do in the city allows me to feel like I'm truly contributing to a piece of history. When it came time to look for a permanent space for Thyme & Honey, my first option was always going to be somewhere in the city limits. I am always inspired by so many incredible chefs working to bring more people to Detroit, just for the sake of food, and to now be able to add Thyme & Honey, and my creations, to the list is honestly a blessing.
Tell us a little bit more about Thyme & Honey!  And of course, tell us a little bit about what's next for T&H!
Thyme & Honey is a gourmet food company specializing in catering and events, charcuterie + cheese boards, nosh boxes, and in-home personal or private chef services. We originated in 2017 as a catering and meal-prep business serving all of Metro Detroit and specializing in a playful and colorful culinary experience. Our ingredients and dishes are health-conscious, made from scratch, and we strive to support Michigan farmers and makers.
Our mission is always to provide four things to all of our catered events: a delicious, colorful, wholesome, and gourmet experience, no matter your budget. Many of our events start with elaborate grazing tables that offer everything from cured meats + artisan cheeses to small bites and shooters, along with custom menu creations for weddings and larger productions. We work extensively with our customers to help bring their culinary vision to life and work our magic around their space. We see food through rainbow-colored glasses, often receiving compliments that it's almost "too beautiful to eat". But it never fails that once it hits your plate, you'll be back to the grazing table for seconds!
As far as what's next, I've spent the better part of my life feeling the need to have strong roots, traditions, and a place to call home. Most of my childhood, I was displaced and abandoned in life, so now I truly cannot even being to explain how thankful and excited I am to call 2990 West Grand Blvd (in New Center!) home, to plant roots for Thyme & Honey, create traditions with my family and our guests, and build a space that everyone finds comfort in.
The transformation that my business and this space has overcome is not forgotten, but celebrated and welcomed with open, loving, and colorful arms. I can't wait to invite you all inside this fall!
We're so excited to launch the New Center Salad with you! Can you tell us a little bit about how you came up with the recipe?
I know my business is named Thyme & Honey, but if I had my way, I'd put dill on everything! When the opportunity arose to create a salad with Planted Detroit, I knew dill would be the main ingredient and everything else would just come together. With it being a unique summer meal, the New Center Salad is creamy, crunchy, tangy, and completely vegan and allergy friendly!
It's one of those perfect fresh salads that you'd serve after a long day on Lake Huron, spending a lazy day on the beach with your family, or if you really wanted to celebrate the incredible fresh produce that Michigan summers have to offer. 
A side note about Cat's love for pickles: 
My retirement dream is to sell pickles out of an airstream trailer by the lake, if that tells you anything about my love for pickles! I love them all- new dill or old, spicy or sweet, spears and chips, extra garlic or just your classic kosher dill, I do not discriminate. I love them so much that I still get pickles gifted to me for birthdays and special events, 36 years later! 
How did you find out about Planted Detroit way back in the day? You've created so many amazing & colorful dishes with our greens since the beginning - what has been your favorite?
I honestly can't remember how I heard about Planted back in 2018...it's possible I heard about it from a friend, but I can't put my finger on it. It's one of those constants in your life that feels like it's always been there which is why it felt so natural to incorporate Planted's products into our meal-prep business in the summer of 2020. Our partnership provided our customers with another level of nutrition and a reason to keep coming back - I am forever grateful, especially through the pandemic, to be able to offer another high quality element to our customers.
My favorite dish I've created with Planted's herb and greens has been my take on Turkish eggs, which will be on the menu at our brick and mortar location! It's such a simple dish, but the fresh dill + baby kale really help elevate the flavors and just give a different element of freshness. Not only is the dish topped with Planted products, but the herb labneh has pops of Planted herbs throughout!