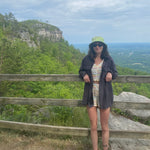 From irrigation flow to lighting, Hailey oversees all of our hydroponic systems technology and is a key part in keeping the farm running every day. Read on to find out more about her role on the farm, how she ended up at Planted Detroit, and what tattoo she wants to get next.
What is your full name and what are your pronouns?
Hailey Brandes, she/her
How long have you worked at Planted Detroit?
A year and 4 months.
What's your role?
I am the CEA Operations Manager of Facilities and Systems.
You didn't start in that role, can you tell us what your path was like?
I started as a farm tech with no experience at all. I was coming from the medical industry and working in a hospital for about a year when I decided to move over here. As a farm tech, I wanted to be learning something new every single day, push myself outside of my comfort zone, and continuously try to pick up on a new task or process. Whenever there were gaps to fill because people were sick or had called off, I would use that as an opportunity to step into their roles and learn. I started to get support from my management to continue to push outside of the box…I am pretty introverted and shy so I've had to work on vocalizing any and all communication.
How do you feel about your current role?
This was always the goal!
Did you know that was the goal when you started?
No, I didn't know! I came in very open to seeing how things went and then I fell in love with the place and decided I wanted to keep pushing to have the most effect on getting things done.
You worked in the medical industry before?
Yeah…my grandpa had a heart attack when I was 10 years old and ever since then I put in my head that I was going to be a cardiologist. From 10 to 22 years old, that was my only goal. I graduated from Wayne State and during my time in school, I loved volunteering in hospitals but when I made the switch to working in a hospital, I didn't like it as much. It was a good role to learn a lot about myself…you know, when you hold on to a goal for that long it's a shock when you realize it's not really meant for you. So, the day I quit the hospital, I went on Google and asked myself…what do you love to do? What are your passions? All of it pointed towards agriculture and working with my hands but also working with people. I also have a lot of personal feelings about the lack of food security, especially with climate change. I wanted to make an impact so I applied to Planted Detroit.
What's different about Planted Detroit from other jobs you've worked?
I think Planted Detroit is different because of the culture and the people that were established here immediately when the business started. It's the constant collaboration, the constant feedback...I love the fact that we're all just working towards a main goal. Everyone is like-minded in that way, but also really unique.
If someone's resume came across your desk and you really wanted to hire them, what would you say to them to convince them to work at Planted Detroit?
I would encourage them to really trust themselves. This is the perfect place to be to push yourself into a growth mindset and work to feel confident in the roles that you're taking. Having them come in to take a tour and catch the energy of the office and the farm would really help them get the full picture of what we're working towards.
In your new role, CEA Operations Manager, what does a typical day look like?
The first thing I do every morning is check on the environment in the farm to make sure things like temperature and humidity are reading correctly. After that, I go into the farm and check in with Evan, the Facilities Manager, and Nolan, the Systems Manager, to make sure they have everything they need to execute the day's plans. Then, I generally have cross-team meetings where we make sure we're all on the same page. I'm also working to just make sure that our team is functioning in a way where everyone feels heard and respected.
What is your favorite thing about working at Planted Detroit?
The people. Everyday I wake up and I'm excited to come in and meet up with everyone. I love to see how they're doing, obviously professionally, but also personally. Other than just who we get to work with, our mission and goals are really important to me, I'm happy to be able to be a part of something that is bigger than myself.
What's your favorite Planted Detroit salad?
The Paradise Valley…I am so excited for it to come back. Shoutout Chef E, that's definitely my favorite one. I love that Tabasco vinaigrette!
What's your favorite microgreen?
I like broccoli microgreens the most…I really love the taste.
Did you grow up around here?
I was born downriver, but we moved to Florida when I was 1 year old. We moved back up here when I was 10 and everyone would tell me I had a southern accent. When I was 18 I moved to Ferndale and then to Detroit, but now I'm back downriver with plans to move back into the city. I do miss Florida because I love that weather, but being inside the farm reminds me of the warm humidity.
How has growing up in this area through such an intense time of change affected how you feel about the work Planted Detroit is doing in the city and Islandview?
I love that we're bringing something to Detroit that hasn't been here. With the growth we're seeing, it's going to be a refuge for climate change…I'm talking 50+ years from now, but I think bringing Planted Detroit here and spreading it across the city will just contribute to that refuge.
If you had a friend from out of town come visit you, and you wanted to show them how you see Detroit, what would your day with them look like?
I would prefer to do it on a weekend, hopefully summertime. We'd walk around Eastern Market on Saturday, check out all the booths, then go to Vivio's - that's my favorite brunch spot in Detroit. After that, we would go to Belle Isle, take a nice walk on the island and go to the Conservatory to see all the beautiful plants they have there. At night, I would take them out!
What's your favorite bar in the city?
Queens is my spot, I love it there. I've been introduced to Marble Bar by some people at work, I really love it, too. If I want to go dancing, I'm going to Vicente's.
What do you do outside of work for fun?
Recently, I stopped working at a kickboxing gym that I helped start up about 2 years ago. I spend a lot of time working out, working at the gym, hanging out with my cats at my house, reading, playing volleyball. I'm in a co-ed volleyball league that I've been playing in for a few years.
Do you like to cook?
One of my goals for this year is to continue to learn how to cook. I recently learned how to cook eggs…I like them over easy so I'm working on getting the flip down. I used to just eat out a lot so now I'm trying to look up recipes, get help from people from work, and trying to learn!
What's your favorite thing to make right now?
This ramen bowl I make…I use rice noodles, ginger, wasabi, soy sauce, sesame seeds, seaweed, gochujang, green onions and an egg on top. I've been eating that almost every night for two weeks.
What's the dish that you really want to learn how to make this year?
If I could make sushi that would be it. I really want to learn how to make it. I tried once but the rice made me really nervous but this year I'm going to do it!
Do you like houseplants?
I love houseplants!
What's your favorite houseplant that you own?
My favorite right now is my monstera…I got this little baby plant about 4-5 months ago. I've dedicated every night to making sure she is comfortable and she's already grown to about 5 feet tall. I'm also looking into getting more vines that can grow across my house.
What's your dream houseplant to own?
Ultimately, I'm trying to get a pitcher plant. I'm really interested in carnivorous plants. Maybe I'll even get a venus flytrap…I keep my windows open in the summertime because my cats like to go outside so I'd love to get some plants that would help with my summertime fly issue.
There's a lot of misunderstanding around vertical farming/hydroponics. What do you think the biggest misconception is?
When you describe the farm, people tend to assume that we're taking up more space than we are because they think we are still growing out instead of up. Even though it's called vertical farming, it's hard to picture how dense we can actually pack plants into the square footage we are using. 
What do you want people to know about vertical farming?
I really appreciate that we use a closed system and we can reuse water for almost a week without having to add any additional water. We're not consuming as many resources as if we were farming in a traditional way. There is a conservation element to this type of farming…this is the future.
When you get home from work, what do you like to do? What do you like to talk about?
I am constantly in my friends' ears trying to learn more about their lives. A lot of them have just had babies so I like to catch up with them whenever I can and let them vent to me. If I'm not with my friends, I'm usually checking in on my siblings after work. 
When no one is around, what do you talk to your cats about?
I'll try on some outfits sometimes and give them a little fashion show and ask them if they think I'm looking good. Other times I'll put out a bunch of lipsticks that I want to wear and let them choose which one. I like to ask them how they're getting along and what they've been up to all day. I recently got a second cat and they were not friends for a few months…it was really upsetting but now they're buddies!
Do you have any travel plans coming up?
I have a trip planned to New York but I really want to take a solo trip to Europe…I've never been overseas but it sounds kind of romantic. I also want to visit more natural wonders of the world…there is this place in Ohio called Serpent Mound, it's only about 4 hours away and I'd really like to go there for a little hiking road trip. 
Your trip to New York is to get a tattoo? What are you getting?
I'm going to get a little kitten with a kirby beanie on my thigh.
You have other tattoos, too?
Yeah, I usually decide the day-of or the day before. I haven't really designed or planned out any of them! I really appreciate artists and their flashes, so everything I have is from a flash. I like Electric Park Tattoo and Old Soul Tattoo Club. I have a lot of animals…birds and a snake that wraps around my ankle. I always wanted a bird because my nickname is Hailey Bird.
What is your go-to song to play in the farm these days?
Someone passed me the aux the other day and I couldn't stop playing System of a Down so I put on "Aerials". I'm also into "Girlfriend" by Hemlock Springs.
Interested in more updates, recipes, and inside looks at the farm? Subscribe to our email list.