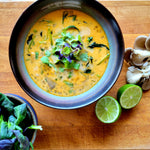 Deveri Gifford, of Brooklyn Street Local, is an expert on using local produce to make seasonal dishes. In this recipe, she sets us up for one of those cozy fall meals we dream about all year long.
INGREDIENTS
2 tbsp coconut oil
1 large onion, small diced
2 tsp minced garlic
1 tsp fresh grated ginger
5oz oyster mushrooms, sliced
2 tbsp red curry paste
1 liter vegetable stock
---
METHOD
In a soup pot, melt the coconut oil over a medium heat.
Add diced onion and cook, stirring occasionally until it begins to soften.
Add sliced mushrooms, ginger, and garlic. Cook 3-4 minutes, stirring frequently.
Add red curry paste. Stir until mushroom mix is evenly coated.
Add vegetable stock and salt. Bring to a boil on high heat.
Reduce heat to medium, add pak choi, mix in until it begins to wilt.
Add tofu or chicken, lime juice, and basil. Remove from heat.
Stir in coconut milk.
Serve hot, garnish with a bunch of cilantro microgreens.
Pro Tip: Leave the seed pods on the cilantro microgreens, they are crunchy flavor bombs!
---