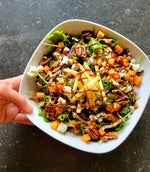 When
Brooklyn Street Local
closed late 2021, we were devastated. A breakfast and lunch staple serving up amazing dishes featuring local produce for almost 10 years, losing them left a poutine shaped hole in all of our hearts. Thankfully, Deveri Gifford, one of the principals behind the restaurant, isn't going anywhere. 
This week, we're showcasing an amazing salad she developed just for our blog. Featuring ingredients familiar to the Brooklyn Street Local regular such as roasted sweet potatoes and (of course) locally sourced kale, this dish is reminiscent of many mornings spent at the corner of Michigan Ave and Brooklyn St.
  
INGREDIENTS
4.5oz Planted Detroit's Specialty Kale Blend
1/2 an apple of your choice
1 medium sweet potato
1/2 medium red onion
1/2 cup toasted pecans
1 tbsp canola oil
1 tbsp lemon juice
3 tbsp blue cheese (optional)
2 tbsp Kale Marinade (see below)
2 tbsp Balsamic Dressing (see below)
Salt to taste
---
PREP
Preheat your oven to 350 degrees
Peel and dice your sweet potato into 1/4 in cubes
Toss in canola oil, sprinkle with salt, bake uncovered for 30 minutes, stirring once. Remove from oven and allow to cool. 
While the sweet potato is roasting, prepare the rest of the ingredients.

In a large bowl, toss the kale in the Kale Marinade and set aside.
Heat a non-stick pan over medium heat. Add the pecans to the pan. Dry toast them, stirring constantly until they are fragrant and start to brown, 1-2 minutes.
Set pecans aside.
Slice the apple into matchsticks and toss in a little lemon juice.
Thinly slice the red onion into half moons.
Combine kale, apples, sweet potato, onions, pecans, and (if desired) blue cheese in a serving bowl. Drizzle with Balsamic Vinaigrette and enjoy!
*Pro tips* 
Toast 2-4 cups of pecans at the beginning of the week, store them in a mason jar for snacking and an easy addition to meals all week. I like to add a dash of cayenne while toasting to give them a little kick.
Kale marinade and balsamic dressing are easy to put together and last ages. Make enough to last a month and you'll eat salads more often!
---
KALE MARINADE
1/4 cup olive oil
1/4 cup lemon juice
1/4 cup apple cider vinegar
1 tbsp agave or honey
1 tsp salt
1/2 tsp black pepper
1 tbsp dried oregano
Combine all ingredients in a jar and shake well
*Pro tip*
How to eat more kale: Kale marinade adds flavor and softens the kale. I eat so much more kale if I have the marinade readily available. You can eat marinated kale cooked or raw. Planted Detroit kale is tender and ready to eat, no washing or chopping needed. Toss it in the marinade, let rest for 20 minutes and it is ready to go.
---
BALSAMIC VINAIGRETTE

2 cups olive oil
1 cup balsamic vinegar
2 tbsp dijon mustard
1 tbsp agave or honey
1/2 tsp salt
1/4 tsp black pepper
Combine all ingredients in a metal bowl and blend using an immersion blender (alternatively, add all ingredients to a blender and mix to combine). Store in an airtight container in the fridge.