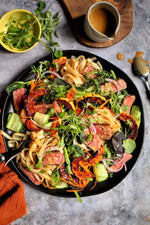 We love nothing more than to see our greens put to use in the most creative ways. Cat Shapiro has been cooking beautiful dishes with Planted greens for months. We are always excited to see what she comes up with next.
INGREDIENTS:
For the squash:
1 small delicata squash
1 tablespoon sriracha
1 tablespoon maple butter or maple syrup
1 tablespoon toasted sunflower or sesame oil
Salt and pepper to taste
For the dressing:
¼ cup coconut aminos
1 tablespoon tahini
2 cloves of garlic
½ inch fresh ginger
Juice of one lime
Splash of rice wine vinegar
Salt and pepper to taste
For assembly:
METHOD:
1. Heat oven to 425 degrees F and line a baking sheet tray with parchment paper. Prep the delicata squash by cutting off the ends and cutting the squash lengthwise in half to expose the seeds, scoop out the center of the squash and discard the guts. Cut the squash into half-moons and place on sheet tray. Mix the remaining squash ingredients and toss together with squash half-moons. Bake until soft and slightly caramelized, about 15 minutes. 
2. Combine all dressing ingredients in a blender or food processor and pulse until combined and set aside. 
3. Assemble salad: layer cooked cold noodles + Planted Detroit salad greens and delicata squash on a platter or plate of choice. Drizzle dressing over top and add sliced steak, carrots, cucumbers and top with Planted Detroit cilantro.
To check out Cat's other creations, head over to her Instagram for
Thyme & Honey
.