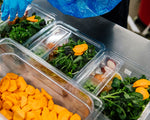 At Planted Detroit, it's been a dream of ours to offer salad & greens subscriptions since our first harvest back in 2018. Place one order and locally grown, pesticide-free greens are delivered right to your door every week... What could be better?
Though we've spent years imagining the ins and outs of our subscription service, we know it's still new to our customers. Here's a little insight into how the subscriptions work, what we offer, and what to expect.
A New Way to Get Greens

We admit it, we think we're a little bit ahead of the curve when it comes to how we want you to get your groceries: by ordering them online from local farms.
Getting you the tastiest greens possible is a top priority for us and bypassing the traditional produce supply chain is key in keeping it fresh (read more about this in our blog post about shelf life). By ordering directly from us, you're able to get greens that have been harvested as close to delivery as possible, making them fresher, tastier, and more nutritious than most greens you can buy at the store. With our subscription service, you can place an order one time and we'll deliver to you each week, taking care to ensure the time the greens spend between our farm and your plate is as short as possible.
What We Grow
Planted Detroit is a controlled environment agriculture (CEA) farm meaning we grow using hydroponic methods and LED lights, 365 days a year. CEA farming lends it self to a few different types of crops, but we've chosen to focus on three specific categories and one ready-to-eat product: baby greens, microgreens, herbs, and ready-to-eat salads. 
Subscribing
All of the greens we grow and salads we make are eligible for subscriptions. When you navigate to the product page for any of our items, you'll see the option to subscribe (delivery is always free for subscriptions) and you can choose your cadence: delivery every one or two weeks. Build your own custom subscription by adding any products you like to your cart!
To subscribe to different products with different delivery days, you will have to place separate orders.
Checking Out
Once you've added your subscription products to your cart, it's time to check out. Head to your cart, input your zip code (check to see if we deliver to your zip code), and select your preferred delivery date. Your subsequent subscription orders will arrive on the same day of the week as your first order, so be sure to pick a day that works for you.
After you select your first delivery date, proceed through the checkout until you complete the payment process.
Create an Account + Adjusting Your Order
After placing your order, you will receive an email from us confirming your order details and inviting you to create an account on our website. Once your account has been created, you'll be able to see your next charge date, add one-time products to upcoming subscription deliveries, change your payment or delivery information, and pause/cancel your subscription!
If you ever need to change the delivery day for your subscription or swap one product for another, send us an email at hello@planteddetroit.com and we can update it for you.
Delivery
On the day of your delivery, you'll receive a text message from our drivers to let you know that your order is on the road. Once they've dropped it off, they'll follow up with another text to let you know the delivery has been completed. 
Remember, if it's hot out, leave a cooler out and our drivers will place your order inside!