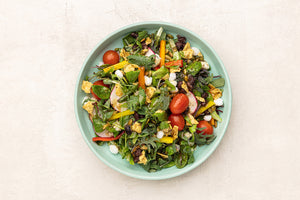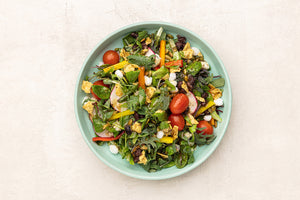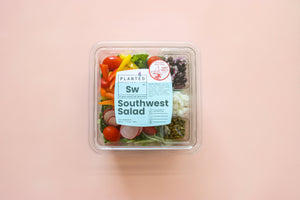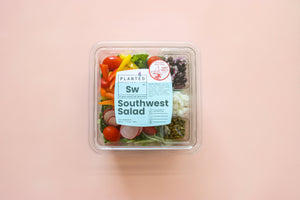 Wholesale Price
Southwest Salad
Detroit's southwest region is notoriously defined by the folks who call it home. Full of latinx restaurants, grocery stores, barbershops, bakeries and more, the neighborhood embodies and embraces the heritage of its residents. From Salvadoran pupusas to the perfect taco al pastor (we miss you, El Rey), there's no shortage of delicious dishes to draw inspiration from and our Southwest salad does just that. This staff favorite is a good reminder that you can enjoy the flavors of Taco Tuesday on any day of the week.
Southwest Nutritional Information - 13.3oz total
Planted Detroit Ingredients: romaine, lacinato kale, blue scotch kale, red russian kale, sorrel, pea shoots, cilantro
Toppings: cherry tomatoes, bell peppers, green onions, radishes, hominy, black beans, red onions, pepitas, tortilla chips by Aunt Nee's
Dressing: Southwest vinaigrette by Drench Dressing
Dressing Ingredients: clover honey, apple cider vinegar, lemon juice, olive oil, avocado oil, water, sea salt, cumin, ginger, black pepper, cumin seeds.
Nutrients: Vitamin A, vitamin K, vitamin C, fiber, phenols (antioxidants), calcium, manganese, phosphorus, potassium, folate