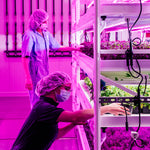 2022 was one for the books and by far our best year yet - surpassing sales records, our biggest year for community engagement and tons of scaling up on the farm. As we kick off 2023, I wanted to thank you for your support and share some exciting things ahead. This year is going to be BIG for us. I'm excited to bring you along every step of the way as we further our goal of making fresh year-round greens more accessible in southeast Michigan. 
The new year is always our busiest season at Planted Detroit as people make the shift to healthier eating following the holidays. While most businesses were winding down during the last month, our teams were preparing to hit the ground running at the turn of the year. Pardon my favorite salad pun but we're growing - and not just vegetables. 2023 brings a lot of exciting changes for Planted Detroit including the opening of our second farm, located on our current campus, where we'll add edible flowers to our product lineup. But this won't be our only new space… more on that in the months to come. 
Along with this expansion and the new products it will bring, we'll be refining recipes, bringing back old favorites, and offering you different subscription options all year long! Not to worry though - we're also ramping up production on all of your current favorites. You'll still be able to find us in all of our current locations including Eastern Market, your favorite grocery store, pickup and delivery right to your door!
With all the exciting change and news to come one thing about us will always stay the same… Our commitment to Detroit. Currently, we employ more than 60 team members with a focus on hiring from the Islandview neighborhood. With more space, we'll have more jobs to fill. Jobs intended for Detroiters. As we scale, we'll remain an engaged member of our community with our five times a week donations of greens to community fridges and food rescues, offering educational curriculum to local students, and the launch of our intern program where students who received our educational programming in their classrooms will get hands-on CEA experience in our farm. 
We're really excited about what 2023 holds and can't wait to share it with you!
Happy New Year!
Tom Adamczyk
Founder & CEO
Interested in more updates, recipes, and inside looks at the farm? Subscribe to our email list.