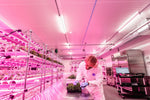 Wren is our IT Systems Developer, Database Administrator, Data Analyst…the list goes on. They spend a lot of their time mining data from the farm, turning it into something the rest of us can understand, and helping to make decisions based on that data. Basically, they set us up to predict the future by learning from the past — like writing a farmer's almanac for controlled environment agriculture.
With the right data collected, cleaned, wrangled into tables, and displayed in neat little charts, we can forecast pretty much anything: yields, production hours, units available to sell… Data is incredibly powerful and important to the work we do every day at the farm. So what kind of data do we capture? Well, it all depends on the questions we might ask. For example, we might want to know: how can we grow the best-tasting kale? We'd start by collecting data on the temperature and humidity of our growing rooms, the amount and type of nutrients we feed the plants, how many days they spend in germination, and even what mix of red and blue lights we shine on the plants while they grow. Then we check that quantitative data against our qualitative taste buds and find out what things to tweak so we can make all of that growth cycle happen again, but better!
We use all kinds of software and hardware on the farm to collect a bunch of information. For most outdoor or seasonal growers, sensors and thermometers can output information about the environment around them, but for us it's also really important for us to input a lot of information into our database systems that ties everything together, so we can make data-based decisions about our operations. Some of the database inputs we track include harvest yields, nutrient doses, water usage, and seed inventory. Our farm technicians who input a lot of this data also get to see the output of their hard work in both the plants we grow, and in numbers and charts on dashboards we design to share information. Then, we as a team can watch these numbers change over time, and visually see how the seemingly small tasks of everyday work can make a huge impact on our business and in our food system here in the Detroit area. All of these data points come together to help us make decisions about what kinds of plants to grow next and how we can provide the freshest, hyper local, great-tasting, pesticide/herbicide-free produce to our community.