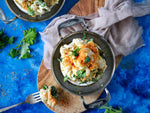 We love nothing more than to see our greens put to use in the most creative ways. Cat Shapiro has been cooking beautiful dishes with Planted greens for years. We are always excited to see what recipe she cooks up next.
INGREDIENTS:
2 8oz wheels of brie 

8oz (short) noodles of choice

Pinch of nutmeg

Pinch of cayenne 

1/8 TSP mustard powder

Dash of hot sauce of choice
4 TBSP butter

1/3 cup all-purpose flour

3 cups milk

½ TSP kosher salt

1/8 TSP black pepper

1 TSP garlic powder
1/8 cup of breadcrumbs or panko

1/8 tsp paprika

Pinch of kosher salt

1 TBSP freshly shredded parmesan, gouda or fontina cheese
2 stainless steel, cast iron or oven safe dishes (for each wheel of brie)
METHOD:
1. Heat oven to 400 degrees F and line a baking sheet tray with parchment paper. Prep the brie wheels by scooping out the center of the brie with a spoon, leaving a 1/2" wall remaining and around ¼" of brie on the bottom of the wheel (it should look like a shallow bowl) and save what you scooped out for later. Place brie wheels in oven safe dishes and set aside.
2. Combine breadcrumbs, paprika, salt and cheese in a small bowl and set aside
3. Heat a heavy bottomed sauce pot over medium heat and melt butter, add flour and whisk to create a roux (should be the consistency of smooth peanut butter). Whisk in (cold) milk until roux is combined with milk, turn the heat to medium high and bring to a low boil, continuing to whisk so the mixture doesn't clump.
4. Add in the nutmeg, cayenne, mustard powder, hot sauce and whisk to combine. Turn heat to low and simmer for 10 minutes, whisking every so often. Turn off heat and add the brie you pulled from the center of the wheels and stir until cheese is melted.
5. Bring a medium pot of water to boil, salt your water, and add in uncooked pasta. Cook pasta according to package directions (more al dente than usual you would typically cook until) and drain. Mix cooked noodles, cheese sauce and kale in a large bowl and stir so everything is coated. Scoop mixture into brie wheels, creating a mound inside the wheel and top with a generous sprinkle of seasoned breadcrumbs. 
6. Place oven safe containers on a baking sheet and slide into the oven, baking for 10-15 minutes or until mac and cheese is gooey and the brie has softened. Remove from oven, top with remaining kale and enjoy!
To check out Cat's other creations, head over to her Instagram for Thyme & Honey.