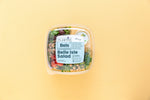 With a growing farm comes a growing brand and we knew our salad names needed a refresh. Read on to find out what's what and why we chose our new salad monikers.
Belle Isle (formerly known as "The Moroccan")
This flavor packed salad has been the favorite child since the moment our lunch salads were born. Full of ingredients that call to our best memories of summer: fresh tomatoes, sweet dates, salty olives, and that dill (oh my god, that dill), every bite transports us to the shores of Belle Isle. For generations, Detroiters and their suburban neighbors have visited this urban oasis. It's a place that reminds us of picnics with grandparents, catching the perfect sunset after an unusually warm day in October, that colder-than-necessary walk to the lighthouse in the depth of winter, when we just needed to get outside...Who wouldn't want to be reminded of those moments with every bite?
Conner Creek (formerly known as "The Power Plant")
For many years, the Conner Creek Power Plant towered over the Detroit River just three miles east of the Islandview neighborhood. Originally a coal powered plant, it provided electricity to Detroit's metropolis for 73 years. Adored by Frida Kahlo, its Seven Sisters smokestacks largely defined the city's skyline until their demolition in 1996, while the Two Brothers stacks stood tall until the entire plant's demolition in 2019. Our Conner Creek salad is full of the most nutrient dense greens we grow paired with high protein toppings to keep you fueled up- an east side tribute to the Conner Creek Power Plant which provided us with energy for so many years.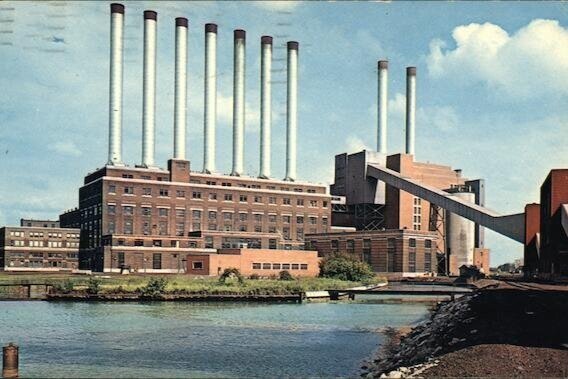 Southwest
Detroit's southwest region is notoriously defined by the folks who call it home. Full of latinx restaurants, grocery stores, barbershops, bakeries and more, the neighborhood embodies and embraces the heritage of its residents. From Salvadoran pupusas to the perfect taco al pastor (we're looking at you, El Rey), there's no shortage of delicious dishes to draw inspiration from and our Southwest salad does just that. This staff favorite takes a well balanced mix of greens (that sorrel is *chef's kiss*), adds a touch of cilantro, and is topped with hominy, black beans, pepitas, tomatoes, and a cumin-forward dressing...a good reminder that you can enjoy the flavors of Taco Tuesday on any day of the week.