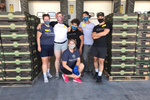 Kelly is our Leader of Plant Health and Employee Success. Who better to give you a rundown of how we pursue a positive work environment that grows the best people and plants that we can?
What do you get when you cross a Horticulturist with a startup that doesn't have an HR Specialist…a Leader of Plant Health and Employee Success. My passion might be working with plants, but it also lies in working with and empowering people.
The CEA industry is still in its infancy which can work for us and against us in terms of employee success. Since the industry is still new, we're figuring out things like training, career path development, and employee education, as we go, which sometimes leads to setbacks. On the flip side, there is no blueprint to follow so each solution we seek will be designed specifically for us. We are a beautiful hybrid between a traditional farm and a manufacturing workspace; one of Planted's goals is to take the best from both worlds and build something that works uniquely for our success.
In order to develop a strong company core, we developed organizational pillars: Science, Honesty, Accountability, Respect, and People (SHARP).  Using SHARP as a guide, employees can easily see how their personal tenets align with the company's tenets.  We find that sharing principles is important, but helping employees to see how they fit into the bigger picture is crucial.  By valuing input from all employees, making changes to benefit everyone, and providing regular opportunities to see the results of their individual work, we have intentionally created pathways for all types of employees to be successful in every role. 
By helping the team to feel empowered and valuing each individual's success, we are able to reach goals together and continue to build a workplace that allows everyone to thrive and continuously grow in pursuit of our mission to provide consciously grown food in a way that serves our community and the environment.  To serve the community of Detroit and making sure our employees succeed is an exciting endeavor and one that we can all get behind.
To talk landscaping, best ordering practices for Shipt, or about the ghost in your attic, Kelly can be reached at kelly@planteddetroit.com