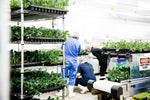 As farmers and salad lovers, we know that one of the biggest challenges facing the greens industry is shelf life. We set out to grow products that won't spoil in your fridge after a couple of days. Combining Controlled Environment Agriculture and a direct-to-consumer supply chain, we've already exceeded the shelf life of traditional grocery store greens. Read on as Simon, our Leader of Biosecurity, explains some of the science behind how we did it.
Planted Detroit Shelf Life 
Controlled Environment agriculture conveys many benefits to the consumer. One of the most apparent and important benefits is the extended shelf life of the food we grow. 
The decay of food is caused primarily by microorganisms consuming the food on a cellular level. These "spoilage organisms" are not special or unique in any way, and they exist ubiquitously in and around us. 
A plant growing outside is exposed to countless spoilage organisms that hitch a ride all the way into the packaging and begin to consume the product before you've had a chance to eat it. These bacteria, mold, and yeast are responsible for the slimy mushy degradation you see when you throw away your package of greens after 3 days in your refrigerator. 
Planted Detroit greens are grown in a controlled, clean environment. We have tested and demonstrated that our greens have several orders of magnitude fewer spoilage organisms present than field or greenhouse grown produce. This cleanliness presents itself with a shelf life that extends 3 weeks post-harvest with no detectable reduction in product quality. We can guarantee our product will last longer on the shelf, or in your refrigerator, than any other leafy green or herb. Extended shelf life means better nutrition, less food waste, and an overall more sustainable product. 
Testing 
Planted Detroit adheres to many standards to ensure our products are the safest leafy greens available. We first look to the Food Safety Modernization Act standards listed as the Produce Safety Rule, we also adhere to health department regulations as a licensed food processor, and we are certified by the USDA through the Good Agricultural Practices audit process. The cleanliness of our facility is quantified by our microbiological testing. We test for food-borne pathogens on a regular basis including : L. monocytogenes in our processing room and E. coli in our irrigation system as an indicator organism for contamination. We are proud to say we have never detected L. monocytogenes and have never exceeded federal standards of E. coli as set forth in the FSMA.
---
Using science as our guide, we've been able to cultivate products that are safer, tastier, more nutrient dense, and have a longer shelf life than most greens you can buy in the grocery store, almost anywhere.
For questions about shelf life, pathogens testing, or certifications, Simon can be reached at simon@planteddetroit.com.