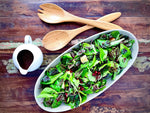 Recipe by Calvin Roberson of Stockpot Cuisine
We like to consider ourselves masters of salads, but with this fattoush, Chef Calvin takes it to a whole new level.
As I spent 4 years in the Middle East, I came to appreciate the many varieties of Fattoush. It is a very fresh salad and Planted's ingredients were a perfect match to recreate with a twist on the usual fried pita -- a fried halloumi crouton. This recipe truly uses Planted's ingredients as the star of the dish and is perfect as we are all longing for Spring...which hopefully is just around the corner!
INGREDIENTS (salad)
1 6-8oz block of halloumi cheese cut into 3/4 inch cubes
1 tablespoon olive oil
3 Persian cucumbers, thinly sliced on a bias
1 cup pomegranate seeds 
4 oz Planted romaine
2 oz Planted sorrel
1 cup fresh mint leaves
INGREDIENTS (dressing)
2 teaspoons ground sumac, soaked in 2 teaspoons warm water for 15 minutes
1 lemon juiced
2 tablespoons pomegranate molasses
3 small garlic cloves, minced
3 teaspoons white wine vinegar
2 tablespoon honey
1 cup extra-virgin olive oil
1 teaspoon Kosher salt
METHOD  
For the dressing:
Combine sumac with liquid, lemon juice, pomegranate molasses, garlic, vinegar, and honey in a small bowl. Gradually add oil, whisking constantly, until well blended.  Season with salt.
For the salad:
Heat a tablespoon of oil in a skillet over medium-high heat and sear the halloumi on two sides, until golden brown. Place on a paper towel-lined plate.
Mix all ingredients, excluding halloumi, in a large bowl. Add dressing, a little at a time.  Toss to coat, adding more dressing as needed. Season with salt. Add halloumi, toss and serve.
To check out Calvin's other creations, head over to his Instagram for Stockpot Cuisine.