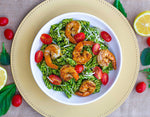 Chef Dominique is always creating bright and delicious dishes in her kitchen. Here she takes one of our favorite mixes and completely transforms it into a nut free pesto.
INGREDIENTS (nut free pesto)
2 cups Planted Lafayette St. Mix, packed 
1 cup fresh basil leaves, packed
1/4 cup shredded parmesan cheese
1/4 cup extra virgin olive oil
2 tablespoons lemon juice
2 tablespoon honey
1 tablespoon fish oil
1 tablespoon garlic 
1/4 teaspoon salt (more to taste as needed)
1/8 teaspoon pepper (more to taste as needed)
2 cups rotini (or desired shape), cooked according to package directions
INGREDIENTS (chili shrimp)
12 raw shrimp, clean and deveined
2 tablespoons unsalted butter
1 tablespoon chili oil
1 teaspoon garlic powder
1 teaspoon onion powder
1/4 teaspoon cayenne pepper
1/8 teaspoon salt
TO GARNISH:
grape tomatoes, halved
shredded parmesan cheese
lemon juice + zest from 1/2 lemon 
plain greek yogurt
METHOD:
Add all pesto ingredients (not including pasta) to a food processor. Blend on high for about 30 seconds. Stop and scrape the walls of the food processor with a spatula. Blend again until smooth. Add salt/pepper to taste.
Combine pesto and cooked pasta in a medium sized bowl and mix until pasta is coated. Set aside. 
Pre-heat a frying pan to medium high and add butter. While your butter is melting, pat the shrimp with a paper towel to remove any moisture. In a medium sized bowl, combine chili oil, garlic powder, onion powder, cayenne pepper, salt, and mix. Toss your dry shrimp in this mixture to thoroughly coat. Once the butter in your pan has melted, add the shrimp and cook on one side for about 60 seconds or until bottom is opaque. Flip the shrimp, turn off heat, and allow shrimp to continue cooking (turning the heat off will help prevent overcooking). Remove the fully cooked shrimp from the pan and set aside.
Add your pesto-coated pasta to a bowl of your choice! Top with shrimp, tomatoes, cheese, lemon juice + zest, and greek yogurt. ENJOY!
To check out what else Dominique is cooking up, head over to her Instagram for Eat With Dominique.