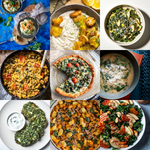 As farmers and foodies, we love seasonal produce and living in the second most agriculturally diverse state (that's right - Michigan is second only to California!), we have unique access to the seasons' bounties. As vertical growers, we also appreciate being able to have fresh, locally grown greens all year long, so we gathered a few of our favorite recipes that celebrate the changing of the seasons AND fresh, delicate greens. Check them out below and grab any greens you'll need from our shop.
Sausage, Kale Pasta with Mascarpone Sauce
Kale + Brie Mac and Cheese - watch it being made by our friend, Ryan!
Sweet Brown Rice Risotto with Kale and Cremini
Harvest Bowl Salad with Apple Cider Vinaigrette

Kale Salad with Delicata Squash, Toasted Pepitas, Pomegranate Seeds, and Goat Cheese
Egg White Quiche with Kale, Tomatoes, and Feta
Onion Fritters with Herbs and Feta
Mama's Buttered Parsley Potatoes
Whipped Feta with Crispy Potatoes