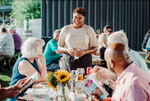 To celebrate Black History Month, we've teamed up with Chef Ederique Goudia to create the Paradise Valley Salad. Using our greens as a canvas, Chef E paints a picture of a life started in South Louisiana and continued in Detroit. Read on to find out more about Chef E, the organizations she works with, and the Paradise Valley Salad.
How did your journey to becoming a chef begin?
If you ask my mom, she'll quickly tell you that I've been cooking since I was three. My sister, Shay, and I would wake up early on Saturday mornings to surprise our parents with breakfast in bed. The microwave and toaster were our friends and helped us to make scrambled eggs, grits, and toast many Saturday mornings until we were old enough to use the stove. I fell in love with hospitality and service before I ever fell in love with cooking. Raised in South Louisiana, I was always surrounded by food - my grandparents had gardens, hunted, fished, and raised livestock. I grew up tending the garden with my grandfather, cooking with my mom, and even helping with the yearly boucherie. I descend from a strong lineage of great cooks so it came naturally.
What brought you to Detroit and what keeps you inspired to keep creating new dishes?
I moved to Detroit after I graduated from Louisiana Tech University with a Bachelor's degree in Business Management with the goal of working in hospitality and restaurant management. I wanted to learn the business side of owning a restaurant first, then ultimately attend culinary school for formal culinary training. I was also interested in applying to the MBA program at University of Michigan so I moved to Michigan one day after my 21st birthday. Staying connected to my roots and pulling from the diverse culinary landscape of Detroit is what keeps me inspired when creating new dishes. One of my favorite dishes I recently created is red bean hummus. It pays homage to a New Orleans staple of red beans & rice while fusing the dish with flavors that are more prevalent here in Detroit.
How did the Paradise Valley Salad come to be?
The Paradise Valley Salad is my interpretation of the Louisiana Sunburst Salad made famous by the Palace Cafe in New Orleans. Celebrating and sharing my Louisiana roots is central to my cooking. 
Paradise Valley was a thriving commercial district packed to the brim with Black-owned businesses. Located between the North End and Black Bottom, Paradise Valley was home to restaurants, clubs, hotels, and theaters.  A hub for culture, this neighborhood attracted talent from across the country. Southern Black artists came to Paradise Valley to perform, collaborate, and sometimes stay and live. The heart of this neighborhood was lost to "urban renewal" and the majority of our beloved Paradise Valley has either been torn down or renamed. In its heyday, PV was a melting pot of culture, excellence, and entrepreneurship.
Tell us a little bit about all of the organizations you work with.
Detroit Food Academy - DFA is a non-profit that works to inspire our youth through culinary and food entrepreneurship. I'm inspired by the work that we do in the youth development space and grateful to help shape the next generation of hospitality professionals and food entrepreneurs. 
Make Food Not Waste - Make Food Not Waste is a non-profit dedicated to reducing food waste in Michigan. The Make Food Not Waste Upcycling Kitchen was created to nourish our community with chef-prepared, nutritious meals with food that would have otherwise ended up in a landfill. 
Taste the Diaspora - TDD is a food agency created to highlight and celebrate the contributions of the African Diaspora to the American culinary landscape and also serve as a resource of education, support, and mutual aid for Black food businesses here in Detroit. 
Gabriel Hall - an upcoming Cajun and Creole restaurant, bar, and music venue coming to the West Village neighborhood in Detroit.
In the Business of Food - IBF Detroit is a foodservice consulting agency founded in 2017 to bridge the gap and become an ally to the small food business owners of Detroit and the surrounding metro areas. It is important that small business owners receive the tools and information needed to run a successful food business and grow confidently, so I wanted to put my expertise and experience to good use and be a helping hand for businesses that may need guidance.
To keep up with Chef E, see what she's cooking, or where she'll be popping up next, follow her on Instagram.