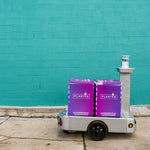 This week, Meg, our Leader of Business Development, gives us the rundown on our pilot program with Tortoise, a company that makes remote controlled last-mile delivery robots.
Delivery drivers are truly the unsung heroes of the post-pandemic era. As we all have experienced, getting food delivered - from groceries to dinner - has exploded since that first quarantine had us locked in and cooking every day. It's the drivers who keep us fed and happy, and our drivers at Planted are no exception. However, it is a hard job: weather, COVID, vehicle shortages, and traffic (among other issues) mean we have faced some challenges when completing our last mile to your door. It's these challenges that have driven us to look for innovative ways to supplement our vans on the road, one of which is this idea of robotic delivery.
We spoke with a number of startups that are leading the way in food delivery via wheeled robots, in search of a partner who would take care of our salads with the same love and attention that our drivers bring to work every day. We chose to partner with Tortoise, in collaboration with Newlab. The robots that Tortoise builds will enable us to pilot robotic delivery this month in Detroit.
You might be thinking that robotic delivery sounds interesting, but what does it actually mean? Essentially, our robots, equipped with storage boxes, will use sidewalks to travel to public spaces with enough of a berth for the customer to safely approach the robot to pick up a salad order. The robot will travel from the farm to a few nearby locations each day during lunch hours, carrying customer orders that were placed the day before. They roll slowly (max 8 mph) and are guided remotely, which means the remote drivers can avoid any potential problems if they see something. The customer meets the robot at the location they selected upon ordering during a designated time window and clicks a link they have received to unlock the box that contains their order. When the customer has retrieved their order, the robot heads on back to the farm to await another delivery. Pretty cool, right?
We're excited to be one of the first to make robotic delivery an option in Detroit and we'll be running our pilot program with the Tortoise bots until the second week of March. If you'd like to place an order for pick-up via robot, you can do so at shop.planteddetroit.com and let us know what you think!