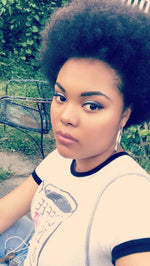 Meet Rena! Having grown up on the east side she's seen a lot of change in Detroit and is passionate about being focused on the future of feeding people. Learn about her dog, Kimchi, how she's learning to ride an electric unicycle, and what she likes about working here in this blog post!
What's your full name and what are your pronouns?
Rena, she/her
How long have you worked at Planted Detroit? What's your role?
I've worked here for about 2 years now and I'm a Systems Technician.
You didn't start on the Systems team though did you? What has your path been like here?
Oh man, I feel like I've been through the whole farm. I started in Processing/Deliveries. Then I became a full Processing Technician, then I moved over to seeding where I later became the Seed Lead. Now, I'm a Systems Technician.
How do you like Systems compared to the other departments?
Systems is way more intense but I really like that there is a lot to do. We do a lot of maintenance and science - that's all I've wanted to do since I joined the team at Planted Detroit.
What did you do before you worked at Planted Detroit?
I have to look through my list of jobs (lol). I was an Amazon delivery driver before I started working for Planted Detroit. That's why I started as a delivery driver here.
What about Planted Detroit feels really different for you (other than the obvious that it's not Amazon)?
Just working down on the farm, everyone is like-minded but unique in their own ways. I've been exposed to a more diverse group of people as a result of working for Planted Detroit. Planted accepts people from all kinds of backgrounds - that's something I really like about this job. There's also a lot of creativity when it comes to problem solving and there are a lot of small things, like our Employee Assistance Program, sustainability practices, giving back to the community, and helping to build a healthier future.
If you were on the hiring team and you found a candidate that you really wanted, what would you tell them about Planted Detroit to get them to work here?
I would tell them that this is a great environment to grow. Even if this isn't your last stop, you can grow a lot here and build yourself up. There is a lot of space for people to work on their own projects or express and implement their own ideas - I think that's really exciting. No other job really offers that. The culture of Planted Detroit is respectful of your situation, whatever you have going on outside of work, they'll make a plan with you and everything will be fine with work. And if you really want to get that community engagement going, you should work at Planted Detroit.
On the Systems Team now, what does your day to day look like?
It's really a department where you have to stay on your toes because things are changing all the time. The Systems Team is at the forefront of anything that might go wrong on the farm. We are the foot soldiers working on getting things fixed! When I first get in, I go through the checklist we have for the start of the day: refilling the reservoirs, checking the pH and the electric conductivity of the nutrient water…then I will load onto the PARS system and sometimes at the end of the workshop we'll do some internal training like cutting PVC pipes and cementing them together. There are a lot of opportunities to become a better technician, which is great.
One of the cool things about our industry is that it's so young and we have to solve problems as we go but what's cool about that is that you get to continue your education.
And it's not like you get stuck doing one thing. If you have a new idea about how to solve a problem, you get to try that here. I've never had that experience at a job before.
What's your favorite Planted Detroit salad?
That's a little tricky…I have to think. 
So I'm really in love with the Belle Isle but I don't use all of the toppings. I like the base because I love the frill, I love that crunch and bitterness. I don't like the dates and the olives together but I like the garbanzo beans. Sometimes I will add a lot of my own toppings like red pepper hummus, dried cranberries, parmesan crisps or croutons, and a sprinkling of shredded parmesan cheese. 
What dressing do you put on it?
[Don't tell anyone but...] sometimes I will grab a dressing from a Morningside and use it on my creation.
What is your favorite microgreen?
I really like mustard and wasabi…I like that they're spicy. I love that bite. The frill is my favorite baby green for the same reason.
Not including anything we grow or make, what is your favorite food to eat?
I like a lot of foods but I really like seafood. If I'm treating myself then I'm going to get some crab legs. I love a seafood boil.
I know you cook…what is your favorite food to make?
Everyone loves the pot pies, but my favorite is short ribs smothered in gravy with some red skinned mashed potatoes, with the skin still on, on the side.
Did you grow up in Detroit?
Yeah, I grew up on the east side, in Morningside actually. 
Detroit was really different then.
It was really different. When I was a kid, there were a lot of retirees in my neighborhood. It was an older community - there were contests to see who had the best lawn and if you won you put your winner's sign out in your yard, my Grandad was super into that. Everyone cared a lot about the neighborhood, but when people started to move or pass away, then no one occupied or bought their homes and started to deteriorate. That started happening right when I was finishing middle school. Then I moved a little further east to Mack & Alter. Where I lived, there were only 4 houses on the street and all the empty lots were like prairies so there was a lot of wildlife on my block.
If you were to give a tour, to someone from out of town, of the places that mean a lot to you in the city, where would you take them?
I love the Conservatory on Belle Isle and I would show them the whole island…that's a crown jewel. Another place I would go is the DIA, it's really nice. Downtown is cool and all but if I'm going there, I would want to ride bikes down the Dequindre Cut to the Riverwalk. I'm learning to ride an electric unicycle so I wish they would put more pathways like the Dequindre Cut in.
Do you feel like, having grown up here, there's places you frequented when you were younger that have changed so much that you don't even feel connected to them anymore?
Oddly enough, I would say my family's church. I wasn't really religious, even as a kid, but I loved that there was always an opportunity to play with my cousins. I loved that the whole family was there. Afterwards, we'd go to my great-grandmother's house and continue to play over there. My family also owned a community center that hosted plays, recitals, different projects like building a tetrahedron kite! My family lost the property and now it's just a shell of what it used to be.
Did your family find a different place to experience the same type of community after the church was gone?
Once my great-grandmother passed, she was the glue, it was harder. The family got so big that we started breaking off and making families of our own. We still see each other but it's not at the same level of what we did before.
When you're not working, what do you like to be doing? Riding your electric unicycle?
LOL yes, I do spend time doing that. My brother always reminds me that I have to wear my helmet. I also love playing with my dog, Kimchi. He's a German Shepard…he doesn't know how big he is yet, he's only 5 months old. Everytime I want to chill, he just throws his big paws on me and knocks me over. I also take care of all my plants, my cat, and I cook all the time. I also like trying out new restaurants…I really enjoyed trying Supercrisp recently.
How many houseplants do you have?
Off the top of my head, maybe 10-15. My favorite one is a pothos, I like it because it was my first plant ever. My granny gave it to me and it's been with me to Texas and back to Detroit. It's been beat up and it grew back. Another one I really like is my inch plant, I'm trying to bring it back to life after the move to my new place.
What is a dream plant for you?
I really want a fiddle leaf fig tree…I want to take the one from the office home with me! Kelly is really protective of them though.
A lot of people think that vertical farming and hydroponics is strictly cannabis. What is one thing that you think people think about our type of farming that is a misconception?
Instantly my auntie popped into my head. She says that it's not natural because we don't grow in the ground. People aren't used to things that are different, you know? Sometimes she asks about how it's safe and sanitary if you don't wash it before you eat it. I let her know it's actually safer because of the way we grow and these are the freshest greens I've ever had!
What do you want people to know about vertical farming and hydroponics?
This is an opportunity to bring fresh produce to the inner city. We're not necessarily in a food desert, but we are in a food swamp. There are places to get food here, but it's fruit at the liquor store…it's not truly fresh. Vertical farming really brings accessibility to the communities. We are also saving space, not working the soil an unsustainable amount, and allowing space to be used for other things like the Dequindre Cut! 
I'm also really into thinking about the future and I'm really hoping that we will be able to witness travel to different planets…go to space and then grow plants in space! That's a piece of the puzzle.
Do you travel a lot?
I've traveled a lot in the United States and during the pandemic I was able to get my passport so now I'm saving up to go somewhere really different. I really want to go somewhere in Asia. I wanted to study abroad in Japan in high school but I didn't get a scholarship because I was so nervous for the interview…I needed some pointers! I also want to travel to some places in Africa like Morocco to get some rugs - I love textiles! 
When I was 19, I moved to San Antonio because I wanted something different. I was dispirited living here and it was the winter…I applied for an apartment and got it so I packed my car with my mom and we left! I was working a lot, but I was having a ball. The culture and the people there were just really different and fun. I didn't realize I was wearing a mask and had such a hardened exterior until I moved there and everyone was so friendly.
Where else have you been in the States that you've really liked?
I really liked DC…the food is SO good and it's like a party every time. I drove there, the drive was horrible, but once you get there it's so much fun. I didn't like Pennsylvania…there's really nothing there. I thought we were going to Philadelphia but we ended up in the middle of nowhere. I also really like South Carolina, I used to live there. 
You have a dog - do you have other pets?
Yeah, I have Kimchi and then I have a cat called Bink for the sound people make when they describe fights like Bink! Bink! Bink! Kimchi always wants to play with Bink but she's scared of him because he's so big. Even when he was really young he was still so big!
When you get home from work, what do you like to talk to your pets and your roommates about?
It's usually about workplace gossip, LOL, nothing malicious but it's fun. One time I told them how Tarik just came into the Seeding Room and started breakdancing. I like to ask my dog if he could chase any animal, what would he choose? He would pick a ball…he loves the ball.
If someone passed you the aux down on the farm and you could put on any song you wanted, what would you choose?
I really like a spectrum of different types of music so we'll go by category. If it's R&B then SZA or Sir or Anderson Paak. I love the album he made with Bruno Mars. If it's rock then maybe the Foo Fighters or Nirvana. I also like to listen to soul music like Earth, Wind & Fire.
Do you have any tattoos?
No, I want some though! I'm so indecisive about what I want to get. I do want a sleeve and I want it to be a universe of people with vegetables for bodies…like a scientific breakthrough. Like a carrot grilling up some food, other root vegetables just hanging around or going to outer space. 
What if the vegetables were grilling people?
That would be hilarious…really reverse the roles!! 
What's your sign?
I'm an Aquarius - air gang.
---