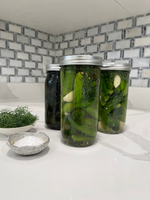 We love to see our greens and herbs used in new-to-us ways and this quick pickle by Chef Amanda Saab is just perfect. Get the recipe below and watch Amanda make it on our Instagram!
INGREDIENTS
1/2 cup Planted Detroit Dill
1 pound of your favorite cucumbers
(Persian cukes are great!)
1 cup distilled white vinegar
3 cups water
1 tbsp kosher salt
1 tbsp granulated sugar
2 dried bay leaves
1 tbsp coriander pods
1 tbsp whole black peppercorns
3 cloves garlic, peeled
1-2 jalapeños or serrano peppers
Sanitized canning jars
---
METHOD
Wash and dry your cucumbers.
Make your pickling brine by combining vinegar, water, salt, and sugar in a medium saucepan and bringing to a boil over medium-high heat. Once your mixture is boiling, stir until the sugar and salt combine. Remove from the heat and add the bay leaves, coriander pods, and black peppercorns.
Fill sanitized jars with dry cucumbers, 1 clove of garlic, and a hot pepper (if using) and pour the brine over the top to cover. Add Planted Detroit dill to each jar. 
Let the jars cool, without their lids, in the fridge. Once cool, screw the lids on and let sit in the fridge for 1-2 days before eating. Enjoy 😊 
***Chef's note: these are refrigerator pickles and should not be left on the counter, at room temperature.***
---