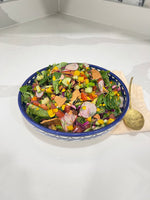 We love all salads and this recipe by Chef Amanda Saab is no exception! Get the recipe below and watch Amanda make it on our Instagram!
SALAD INGREDIENTS
5oz Planted Detroit Romaine
1oz Planted Detroit Parsley Microgreens
2 cups purple cabbage, shredded
1 1/2 cups cucumber, chopped
2 cups pita chips
2 cups tomatoes, diced
1/2 cup green onion, chopped
1/2 cup radish, chopped
1 bell pepper, medium dice (about 1 cup)
---
DRESSING INGREDIENTS
1/2 tbsp finely grated garlic
2 1/2 tsp sumac
3 tsp pomegranate molasses
3/4 cup extra virgin olive oil
3 tbsp fresh lemon juice
1 tsp kosher salt
---
METHOD
To begin, make the dressing by combining olive oil, pomegranate molasses, sumac, garlic, lemon juice, and salt in a lidded jar. Shake well to combine.
In a large bowl add romaine, parsley microgreens, green onions, cabbage, bell pepper, tomatoes, cucumbers, and radishes. Drizzle the dressing over the top and toss well until all salad components are full coated.
Add the pita chips and toss again. Enjoy! 
***Chef's note: you can use a microplane to grate the garlic. This will help it incorporate into the dressing.***
---