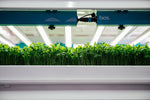 To our Planted Detroit community,
You may or may not be aware of the budget restraints Planted Detroit has been facing in the last few weeks. Since the onset of these challenges, our team has been working tirelessly to drive sales and identify investments to secure our company's future. It's with a heavy heart I share that, despite these efforts, Planted Detroit will begin winding down operations starting Monday, July 17. 
We have left a little bit of runway to continue to provide our customers with salads and greens for the next few weeks. We will continue honoring all subscriptions, farmers market commitments, and delivery orders placed on our website until July 28. At which point, we will transition to offering our products by pickup only at our farm from July 31 to August 4. On August 4, Planted Detroit will fulfill its final pick up orders before closing its doors and dismissing all employees. 
While we are still seeking outside investors to take over operations and restore the longevity of the company, there is no guarantee of that and we cannot make business decisions based on this hope. If you or someone you know is interested in investing please contact me, Thomas Adamczyk, at 734-250-1906.
Our primary focus at this time is creating a transition process for our employees that is as smooth as possible. If you know of any opportunities available for our team members including farm technicians, maintenance workers, food safety experts, marketing & communications professionals, or sales managers, please reach out our Head of HR Katrina Cotton at (313) 784-9552.
We can't thank you enough for your support during these five years. 
All the best,
CEO & Founder
Thomas Adamczyk