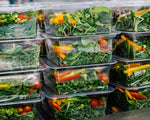 Working with baby greens and microgreens in a hydroponic system presents unique challenges when it comes to food safety. Not only do we implement biosecurity procedures to protect our plants, we actively seek out certifications that hold us to a high food safety standard. In this post, Simon, our Leader of Biosecurity, details which certifications we pursue and why they matter to us.
Planted Detroit strives to provide our customers with the safest greens possible. The best way of communicating the work behind our safety commitments is through certifications from objective and unbiased third parties. Certifications can come in two forms, from the government via USDA or FDA, or through third party organizations. Certifications can also be obtained by our employees on an individual basis in relation to their specific job roles and skills. 
Federal Government Certifications:

Planted Detroit is certified by the USDA through the

Good Agricultural Practices (GAP)

audit scheme. This bi-yearly inspection and document review holds Planted Detroit to the highest standard of food safety. This audit requires us to demonstrate our commitment to effective sanitation, supplier approval, traceability and employee training that together lead to exceptional food safety standards. 
State Government Certifications:

Planted Detroit is not only a farm, we are also a state certified wholesale food processor via the

Michigan Department of Agriculture and Rural development

. Inspections take place yearly and focus on our food processing areas.
Planted Detroit also utilizes our produce safety technicians from Genesee Conservation district in order to advise on process improvements
Employee Certifications
Many Planted employees take part in food safety training courses. In addition to our monthly in-house training, our leaders are ServSafe certified and complete the MSU Produce Safety Supervisor training course. 
Planted Detroit deploys farming technology that is relatively new to the agriculture industry. Due to the novel nature of vertical farming, government regulations can lag behind the pace of development. This means that laws and regulations meant for traditional agriculture often need to be interpreted to fit the reality of controlled environment agriculture. Our philosophy at Planted is to adhere to the most stringent interpretation of the Produce Safety Rule, and by doing so, be ahead of the curve for future regulations.