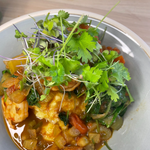 Local chef, Shanel Dewalt, has been cooking up delicious dishes in Detroit for years. Most recently, she's returned to the Motor City after being the 1st African American Female Chef in Residence at Kellogg's. We're proud to feature her recipe for shrimp & grits featuring a few of our favorite greens!

INGREDIENTS
1 small onion, chopped
1 green pepper, chopped
2 ribs celery, diced
2 garlic gloves, peeled & minced
1 tbsp creole seasoning, divided
2 cups vegetable or chicken stock
1 cup tomatoes, chopped
1 tbsp Worcestershire sauce
Juice of 1/2 lemon
2 handfuls Planted Detroit Specialty Kale Blend (about 4 cups)
2 tbsp Planted Detroit dill, rough chopped
1/2 pound jumbo shrimp
Cooked grits, for serving
1 package Planted Detroit Rainbow Micros Mix
METHOD
Heat a medium saucepan over medium heat. Add 1 tablespoon olive oil to the pan. Add your holy trinity (onion, bell pepper, celery) and cook for about 3 minutes, stirring occasionally. 
Add in the garlic and continue to stir for 1 minute. Deglaze the pan by adding your stock and stirring to release anything stuck to the bottom. Add in the tomatoes, 2 teaspoons of creole seasoning, and Worcestershire sauce. Cook for 5 minutes over low heat. 
Prepare your shrimp by coating in 1 teaspoon of olive oil and 1 teaspoon of creole seasoning. In a medium sized sauté pan over medium heat, cook your shrimp for 3 minutes on both sides, until brown and cooked through.
Add your shrimp to the saucepan along with lemon juice and dill. Turn off the heat and add the Specialty Kale Blend. Allow the heat of the mixture to carry over and cook the kale. 
Serve on top of prepared grits and garnish with Planted Detroit Rainbow Micros Mix and dill.