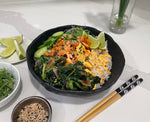 We love nothing better than a recipe that comes together in 30 minutes and Chef Amanda Saab has delivered for us!
Check out her recipe for this flavor-packed bowl and hit the kitchen!
INGREDIENTS
SAUTEED PAK CHOI
3-4 garlic cloves, thinly sliced
3 cups Planted Detroit Pak Choi
1 tbsp extra virgin olive oil
1 tbsp soy sauce
Freshly ground black pepper


SPICY MAYO
1/4 cup mayo
2 tbsp Sriracha (or your hot sauce of choice)
1/2 tsp kosher salt
1 tsp freshly ground black pepper
Juice & zest of one lime
SALMON
1/2 lb salmon
1 tsp kosher salt
1 tsp freshly ground black pepper
1 tsp paprika
1 tsp cayenne pepper
1 tsp garlic powder
1 tsp onion powder
1 tbsp honey
1 tbsp extra virgin olive oil
---
METHOD
Begin by heating olive oil on medium heat in a skillet. Sauce garlic and pak choi until greens are tender and garlic is fragrant, about 3 minutes. Season with freshly ground black pepper and soy sauce. Set aside.
Heat one tablespoon of olive oil over medium heat. Season salmon with honey, salt, pepper, paprika, cayenne, garlic powder, and onion powder. Sear salmon, skin side down.
To make the spicy mayo: combine mayo, sriracha, lime juice, and lime zest and mix. Taste and add salt to adjust to your liking.
Add the cooked rice to a serving bowl and top with salmon, pak choi & garlic, and wasabi microgreens. Drizzle the spicy mayo over top and finish with sesame seeds, chives, and a squeeze of lime juice. Enjoy!
---