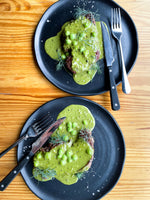 This month's Planted Detroit x Marrow Box has us all excited for spring. Chris, from Marrow, dreamt up this Spring Chuck Eye au Poivre using a few of our favorite ingredients from the box. Grab your box & hit the kitchen!
INGREDIENTS
AU POIVRE
1 shallot, finely diced
3 cloves garlic, finely diced
1 tablespoon green peppercorns, in brine, ground
1 tablespoon freshly ground black pepper, coarse
2 oz cognac or Amaro Nonino
2 tbsp butter
1 cup Spring Cream Sauce
1 cup heavy cream
1 cup english peas, shucked

---
METHOD
For the Spring Cream Sauce, combine all ingredients in a blender or food processor and blend until smooth. Set aside.
For the Steaks, heat a 12" skillet (sauté pan or cast iron) over high heat. Season the chuck eye steaks with salt & pepper and then coat with cooking oil. Once the pan is hot, add the steaks and sear, flipping after 3-4 minutes. After each side of the steak is seared, add the butter and reduce the heat to medium-high. Baste the steaks in butter until cooked to your liking (we like ours medium & temping around 135°F). Once the steaks are cooked, remove from the heat and let rest on a rimmed baking sheet or plate.
For the Au Poivre, in the same pan as you cooked the steaks in, add the minced shallots and garlic. Sauté until aromatic, 1-2 minutes. Add green and black peppercorns, remove from heat and pour in cognac or Amaro Nonino to deglaze the pan. Ignite the liquid with the cooking flame and let it caramelize for a few seconds, until the flame burns out. Immediately add the Spring Cream Sauce and whisk to combine.

Reduce the heat to low and let the sauce come to a bubbling simmer. While the sauce is reducing, preheat the oven to 300°F and insert the steaks. Add butter to the sauce and whisk to melt & combine. Turn off the heat, add the heavy cream and English peas, and whisk until the sauce has a uniform color.

Place your steaks on serving plates and generously ladle the Au Poivre over each steak, allowing it to pool around the entire cut.

Garnish with dill, kohlrabi microgreens, and any other herbs you like!  
---