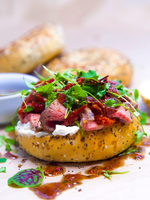 This week, Chef Dominique delivers us a delicious recipe that transforms some of our most popular greens into a mouth watering vinaigrette. Read on, but fair warning, you may drool.
INGREDIENTS:
Sorrel Vinaigrette
3 cups sorrel, loosely packed
1/2 cup coconut oil (in liquid state)
1/2 cup extra virgin olive oil
1/4 cup apple cider vinegar
3 tablespoons raw honey
3 garlic cloves, minced
Salt to taste
Steak Bagel
fresh everything bagel
1/2 cup steak, cooked to desired doneness and cut thin
2 tablespoons plain cream cheese
1/4 cup cilantro microgreens, loosely packed
1 tablespoon canned sun dried tomatoes
METHOD:
Add ALL Sorrel Vinaigrette ingredients to a food processor until smooth. Taste and adjust salt as needed. Set a portion aside for the steak bagel and refrigerate any leftovers.
Cut bagel in half and spread the bottom with plain cream cheese. Top with steak, cilantro microgreens and sun dried tomatoes.
Drizzle with 1 tablespoon Sorrel Vinaigrette. I also recommend having a side of vinaigrette for dipping. ENJOY!

NOTE: If you have leftover Sorrel Vinaigrette, you can refrigerate it for up to 3 days. The coconut oil will cause the vinaigrette to turn solid. Heat over the stove on a double boiler until it melts before reusing.